(Originally published in the News & Observer; By David Justice — Correspondent)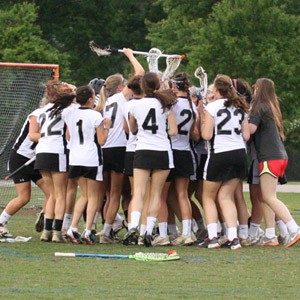 CHAPEL HILL — East Chapel Hill enjoyed plenty of success Friday night as the girls and boys both advanced to the Eastern Finals of the state lacrosse playoffs.
The girls topped Cardinal Gibbons 16-14, while the boys had a much easier time, topping Broughton 12-6 in third-round playoff games.
The girls will host familiar foe Green Hope Tuesday. The Wildcats boys will follow up with a match against Apex for a berth in the state championship game.
Green Hope defeated East's girls in the Eastern Finals last year.
Gibbons (15-3) led 6-5, but East (14-2) went on a 3-0 run and led the rest of the way. Wildcats senior attacker Sydney Holman poured in 10 of her team's goals and had four assists.
"Sydney was amazing, as always, and we had a lot of girls play well," Wildcats coach Michelle Michaels said. "We had some rough patches, but this was the same type game we played against them earlier in the year, but I think we were a little nervous playing them the second time."
Michaels pointed to the solid play of attacker Cassie Watters and the defense.
"Goalie Riley Johnson had a lot of big saves and she's a very good four-year varsity player," Michaels said. "Having a goalie like her is a key."
First-year Gibbons coach Taylor Chumney was an assistant at East last year.
"Both teams played their hearts out and we probably just made more mistakes," Chumney said. "We had some opportunities where the goalie came up with some nice saves. We both had runs but they came out with the outcome."
Junior Shelby Scanlin, who has committed to play at the University of Maryland, led the Crusaders with four goals.
"Shelby usually leads us in scoring," Chumney said. "She's a very talented player for us."
 —————————
The East boys (16-2) led 2-0 after the first quarter, but stretched the lead to 8-1 at halftime and 10-1 entering the final period. The lead was safe, even though Broughton added five fourth-period goals
"We played hard and knew we had to step up our level for this game," East coach Austin Bridges said. "We like to be a first-half team. I'd rather defend a lead than have to come from behind."
Freshman Chris Cox led the Wildcats offense with four goals. Junior Ian Levin and sophomore Drew Monroe scored two goals each. Levin also had four assists.
"Chris has gotten better and better as the year has gone on," Bridges said. "And his confidence level has also gone up. He had a huge game."
Junior Davis Weaver and freshman Mitchell Snyder scored two goals for Broughton, which finished the season 16-3. Sophomores Hayden Lovett and Walker Rice also scored.
Read more here: http://www.newsobserver.com/2013/05/10/2885727/wildcats-sweep-playoff-doubleheader.html